https://www.youtube.com/watch?v=BvdOXFSXzJQ
Aerial Adventure in Estes Park
Break out your inner Monkey!
We ARE the Place for a Rocky Mountain Aerial Adventure
We are the only Aerial Adventure Park in Estes Park!
With 32 unique challenges at 11 and 21 feet in the air, our aerial adventure park is an Estes Park activity fit for almost every age and ability.
Climb over hanging chairs, zipline on our airboard or stretch your abilities with Pirates Crossing. Need a harder challenge? Almost every element has multiple options that can make it easier or harder, giving you a custom adventure.
During your time on our aerial adventure park, our staff will be there along the way to support you. You will have the same staff member teach you about our course, be available to help encourage and challenge you, and on occasion talk you through that persistent fear of heights.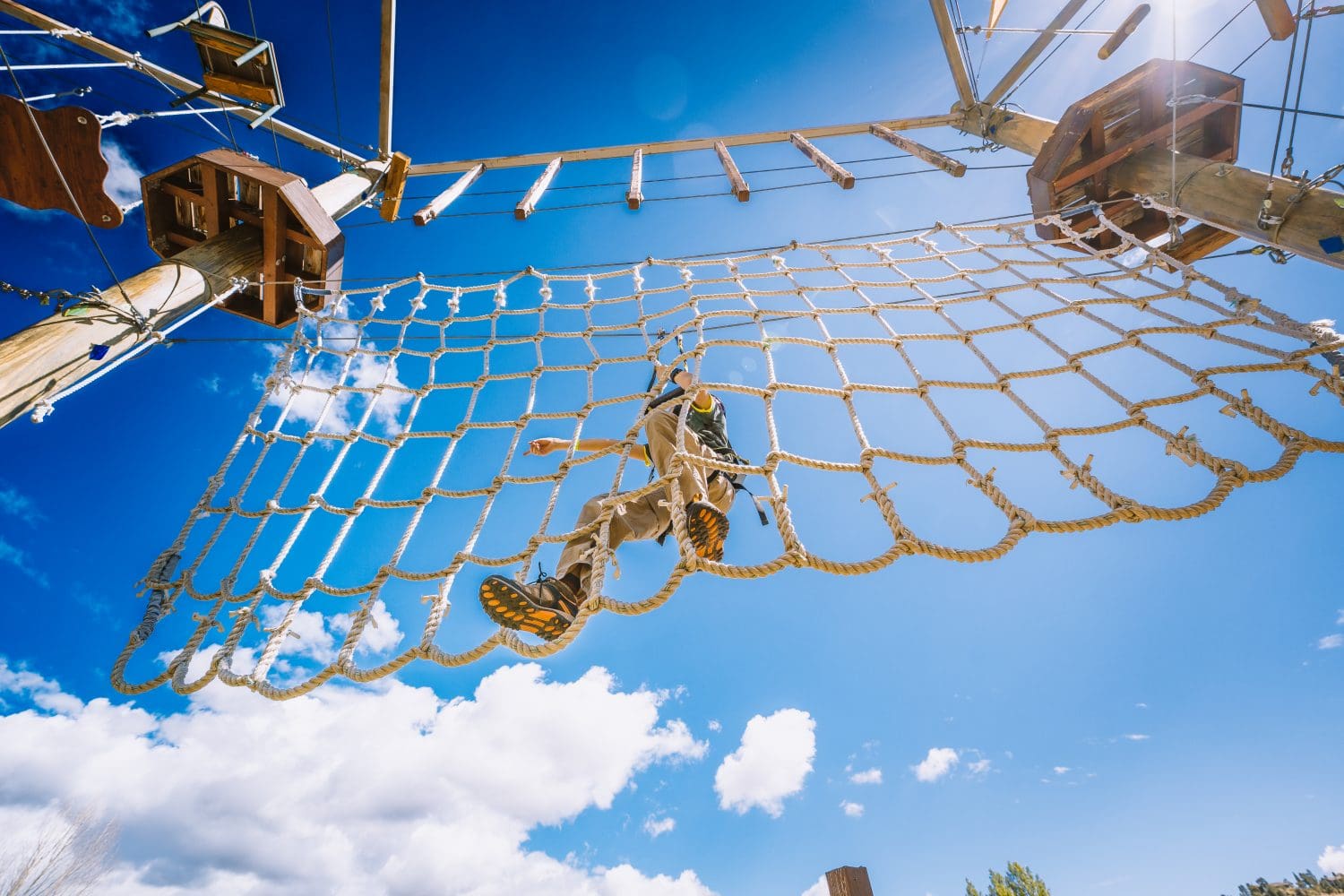 We start you out with a 30-minute orientation, teaching you the craft of aerial adventure, prepping you for success and getting you geared up for the next 90 minutes of heart pumping, grin inducing, monkeying around sort of fun.
From there, we will point you in a direction that is suited to your physical ability and comfort with heights. If you are trying to conquer a fear of heights or introducing others to aerial adventure for the first time, we will start you out slow to build confidence.
If you are an old hat to aerial adventure and think this looks like child's play (Que the staffs ominous snickering in the background), don't worry, we have some challenges that will leave you with sore hands and determination to be one of the 10% who can complete our toughest elements.
Pricing
For up to 90 minutes of Adventure
Plus an additional 30-minute training.
General Admission
---
Ages 10 and up
$41 per person
Child Admission
---
Ages 6-9 (must be accompanied by someone over 13 unless waived by staff)
$29 per person
Group Bookings
Bringing a group? Check out the options below to discover our different group packages and discounts.
Private groups can be booked year round, depending on weather and staffing.
B Y.
My 11 and 13 year old loved this place so much. My oldest said it was the highlight of our trip. It was raining earlier so it was wet and chilly. The staff assigned to us was so kind and encouraging. The family who runs it seem like wonderful people. This is a great business to support!
9/13/2022
Join us for an unforgettable evening of adventure by combining the best of what we do at the end of your day.
Start with 90 minutes on the aerial adventure park

Come down and take a break around our fire pit while making smores 

Finish up your evening with ax throwing under the star lit skies.
Have additional Questions? Visit our FAQ page, email us at hello@openairadventurepark.com, or give us a shout at 970-586-3066.